The Far East



Irkutsk/Khuzhir on Olchon Island

After returning in Irkutsk I spent one more night in a hostel and started the next day to a trip to the island called Olkhon at Lake Baikal. There is a bus going to the village on this island called Khuzhir. I cannot remember how long it took but we had at least a break at a gas station where I can remember that some drunk Buriats almost started a fight with 2 (American) backpackers... It was the woman working at the gas station who calmed them down. Arriving at the lake we had to wait for the ferry and as we had an ordinary big bus there appeared some problems boarding it (see fotos) but it would not be Russia when people would not be able to improvise, so they managed to board the bus and we could continue.
When I arrived in Khuzhir I checked in at the hostel there. I think the owner was a sportsman in the past, who built a nice and pretty big hostel. He kept it simple and also the toilets were "bio" toilets as it was called and there was no light at night, so you have to have a flashlight with you. Either in the evening or the next day the Danish guys I met in Krasnoyarsk arrived in Khuzhir but instead of staying in the hostel they decided to camp and hence already bought a tent in Irkutsk.
Weather was not as hot any more like in the European part of my journey. During the day it was still warm and nice but I can remember that in September it got pretty chilly at evenings respectively nights. I was going around with the Danish guys and a dog started to follow us whom we called Omul (which is a tasty local fish you can buy and eat everywhere on the island). There were some dogs around which are calm during day but as soon as it gets dark they got a bit aggressive... Anyway, together with them I made some trips like one with the so called "Bukhanka" car, meaning bread box and similar to the popular VW transporter, which impressed us a lot because it was a reliable transporter going trough all kind of areas. We were shown some places and stories told like the one where you can see a "face" onshore to be said to be Marx face, or the "crocodile" of Lake Baikal, a small rocky island looking like a crocodile, or the rock parting where you chose to go to the right or left with different meaning. AFAIR throwing a coin from one side was for getting married and the other side for the opposite, but I'm not sure any more. Another day we rented a bike and made a tour.
The island is not big but really nice. In the hostel I have also seen a bigger group of Austrians but I did not reveal myself as Austrian. I wonder how winter time is there, how the landscape is looking like at the area of Lake Baikal and you shall be able to cross the like by car because the lake is frozen. This I also would have to try out one day.
The way to the ferry was a bit steep...
Well yes, but Baikal is cold..!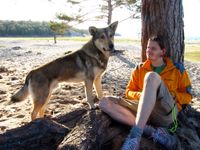 Waiting for our Bukhanka...
A break and our Burjat driver
The rock where you have to decide...
The center of the village
I wonder about the story of the car
The public toilet in the homestay
I find at least something related to Vienna everywhere in the world
Ulan-Ude
After couple of days I had to return to Irkutsk to get the train to my next stop: Ulan-Ude. I was looking forward to the ride because I heard (or read) that the ride on the train should be scenery, but somehow I cannot remember that it was not that spectacular. But maybe I simply missed the (best) parts or I was already overwhelmed by the places I have been before in Listvyanka and on Olkhon.
Ulan-Ude is the capital of the Buryat Republic. This capital is the hub where people split in either continuing to Mongolia, like the Danish guys did and most travellers do, or to go to the Far East region, like I did. The city is not impressive in boasting with modern buildings but more with asian  buddhist tradition. There was only a small shopping street and in the center Ulan-Ude offers Lenin but not the whole person but with the biggest head in the world :)
I did a day trip to a buddhist monastery called Ivolginskii Datsan. The first part I took a bus going to the village nearby and from there I got to know a monk with whom I was talking with (unfortunately I cannot remember how or why we got into contact, but he was wearing the typical buddhist clothes). He organised a ride with people who were also going to the Datsan. It was really impressive to see this area and like in Kazan I was surprised by the individual differences within the Russian Federation because I had no idea about these aspects of specific regions. After looking around for couple of hours I was heading back but did not take a car or other kind of transport because Ivolginky Datsan was not far away from the village and enjoyed the countryside.
In Ulan-Ude I was again using a hostel, because the further east you got the less people knew and used CS back in 2010. I was alone there as these parts of Russia are not so common for travellers and/or backpackers. I remember staying some more days to have a rest and I used the internet connection in the hostel because I also underestimated the availability of public internet access in Russia, even though it was pretty slow.
Initially I considered to see e.g. Tschita, Birobichan, which is the capital of the Jewish Oblast, and/or Khabarovsk. But it was already mid September and I was running out of time and did not have too many days left. I had to reach my already booked flight from Vladivostok back to Moscow and not to forget to see the capital of the Far East Federal District for couple of days. So I had to skip everything between Ulan-Ude and Vladivostok and hopefully going to see something in the future (what I did concerning Khabarovsk five years later), because the ride from Ulan-Ude to Vladivostok alone takes 3 days – up to day the longest ride I ever had!
The flag of the Buryat republic
The world's biggest Lenin head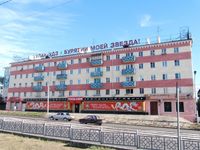 Pedestrian zone of Ulan-Ude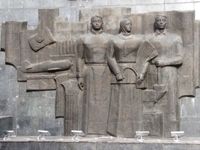 This is at the outskirts of the city
Outside of Ivolginskii Datsan
Also here are dogs around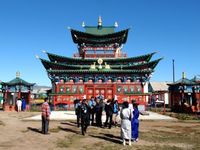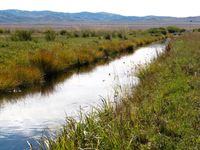 On the way back to the village
And again Asian style in the village
And now on the way to my last stop: Vladivostok
Vladivostok

The 3-days ride was long and interesting. People, like at my other rides, were curious to find out who I am and what I am doing in that region wondering that I'm not only staying in Moscow or Piter and in addition (and even more strange) using platskart and not at least kupe (or lux, a cabin with only 2 beds). 3 days are a lot time and people are spending time differently eating, talking, reading, sleeping or whatever. With a Babushka I tried to communicate as far as possible what was funny. I also was simply looking out of the window and watch the landscape passing with this typical sound of the moving train having a hypnotising effect. By the way, this is what I like when riding a train and not feeling bored.
Then I arrived in Vladivostok, the last stop of an almost three months journey. In Soviet times the city was closed because of the Pacific Fleet docking there and foreigner were not allowed to enter the city (but this was the case for numerous cities, so for example also Nishni Novgorod, Gorki before, and Ekaterinburg, Sverdlovsk).
I can remember that I felt a vibrant atmosphere because there was a lot going on like repairs, renovations and new building sites. For example I have seen that they were in the middle of constructing the Russki bridge which should be finished in time in 2012 for the meeting of the Asian-Pacific Economic Cooperation.
Again I was in a hostel and met different people with whom I exchanged experiences and shared conclusions of our journeys. There was also a guy who did the same route the other way round than me but started earlier and came from Northern Korea. With others it was interesting to hear about their negative experiences regarding "service" specifically when they wanted to buy a train ticket. They were not able to talk Russian properly and they told that the woman at the desk got impatient and simply turned away... Something like this never happened to me. I also sometimes had problems but they always turned to be at least funny for Russians, but I'd also say that my Russian skills are at least good enough to articulate what I need and/or want.
With a girl living in Germany and a Japanese guy, who travelled the world for couple of years but was about to return to Japan (very quiet but impressive guy, see fotos), I was going around in the city. You could see that Moscow is far, Europe even further, and the (economic) orientation was to Japan, Korea and China. When we arrived the harbour it got some kind of emotional moment for me because I realised that I arrived the Pacific ocean marking an end to my trip through the Russian Federation taking almost 3 months, travelled more than 10.000 kilometers and getting to know such great and diverse people...
There were numerous stops during the 3-days ride
This can be identified as Viazemskaya..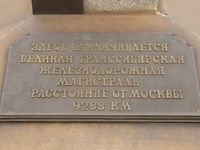 The old emblem of the city (I guess)
For a ride to the top of the hill
Here you can see building on the Russki bridge
And the bigger part of it
The Japanese guy who travelled for years
Altogether at the pacific...
Almost 3 months at the end...